Computing
At Lakelands Primary School, we teach our pupils (from Year 1) discrete subjects. This means that we teach pupils what it means to be computer scientists. Pupils will understand that in Computing, we learn about how to use computer programmes and how to be safe online.
"I think it's fair to say that personal computers have become the most empowering tool we've ever created. They're tools of communication, they're tools of creativity, and they can be shaped by their user."
Bill Gates
Computing Curriculum Overview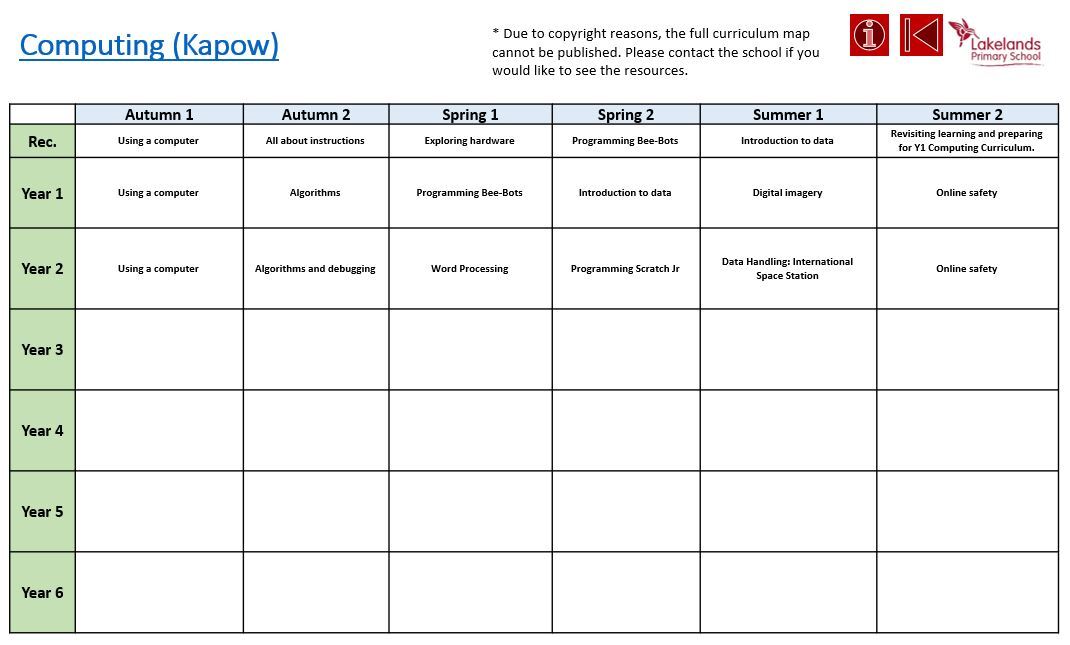 Computing Knowledge and Skills Coverage
All units of learning in our Computing curriculum are designed to cover the following key areas:
Computing systems and networks
Programming
Handling data
Creating media
Online safety
Across the school, we teach Computing to help pupils acquire and develop a repertoire of skills and knowledge so that they increase their understanding of how computer scientists work.
The following core concepts underpin the teaching of Computing:
Coding
Connecting (including online safety)
Communicating (including online safety)
Collecting
We use these to support teacher knowledge and improve lessons:
Kapow Schemes of Work, Long Term Plans and Skills Progression
Skills progression through adapting the Essentials Curriculum
How is Computing taught?
At Lakelands, each child has access to their own laptop which is equipped with the software and hardware needed to deliver most of the aspects of the Computing curriculum.
We also have Bee-Bots which allow pupils to learn about programming and coding from as young as Reception. In Reception, pupils also have 'tinker trays' that teach pupils about some of the hardware needed in building computers.
Pupils are also taught online safety as a discrete unit of learning in every year group - this unit builds on knowledge as pupils progress through to Year 6, so that by the time they leave Lakelands, they have a solid understanding of how to keep themselves safe, as well as learning how to scrutinise sources of information on the Internet.
Enrichment Opportunities in Computing
There are various ways in which we enrich the pupils' knowledge and skills beyond individual Computing lessons:
Themed STEM weeks
Coding clubs
The design of the Lakelands Curriculum means that pupils will have links to other areas of learning (especially Relationships, Sex and Health Education, Design and Technology and Science).
Online safety workshops (2 Johns)
Assemblies relating to keeping safe (including online). Examples of these can be found at the bottom of this page.
Computing Links with other curriculum areas (including EYFS)
In EYFS, the Computing curriculum is closely matched with the areas of learning. For example, in laying the foundations for the programming aspect of the curriculum, pupils will learn about following instructions to wash their hands and 'debugging' them. This is linked to Personal, Social and Emotional Development (Managing Self) and Communication and Language (Listening, Attention and Understanding). Pupils have access to the Bee-Bots at a station in their continuous provision.
Computing is also closely linked with Design and Technology (Electrical) and Science (Electricty), as well as the transferrable skills pupils gain when learning about algorithms (which can be similar to following and creating recipes in Design and Technology). Another example is when pattern spotting and recognition in coding is supported by the learning using the Mathematics Mastery approach.
Pupils learn about keeping safe online throughout the year; in Computing and Relationships, Sex and Health Education there are discrete units of learning (taught at different points throughout the year to support retrieval and retention) as well as assemblies during E-Safety week.
Knowledge Organisers
As we use the Kapow Computing Schemes of Work as the basis of our Computing curriculum, we cannot share Knowledge Organisers on our website for copyright reasons.